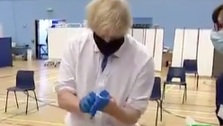 British Prime Minister Boris Johnson cracked a misguided gag about "Trial of the Century" defendant O.J. Simpson on Wednesday.
"I feel like O.J. Simpson," Johnson joked as he struggled to put on a protective glove during a visit to a COVID-19 vaccination center in Wales.
Johnson's quip referenced a decisive moment in Simpson's trial for the 1994 murders of his ex-wife Nicole Brown Simpson and her friend Ronald Goldman, for which he was ultimately found not guilty by a jury.
At one point in the monthslong televised proceedings, Simpson's hand didn't appear to fit a bloody leather glove found at his home. Defense attorneys argued Simpson, therefore, could not have been the killer. Simpson was later declared liable in civil court.
A noti.group Guide To Coronavirus
As COVID-19 cases rise, it's more important than ever to remain connected and informed. Join the noti.group community today. (It's free!)
Credit: Notigroup Newsroom.
[This article may have been written with information from various sources]